We Help You Stand Out And Leave Lasting Impression
We Help You Stand Out And Leave Lasting Impression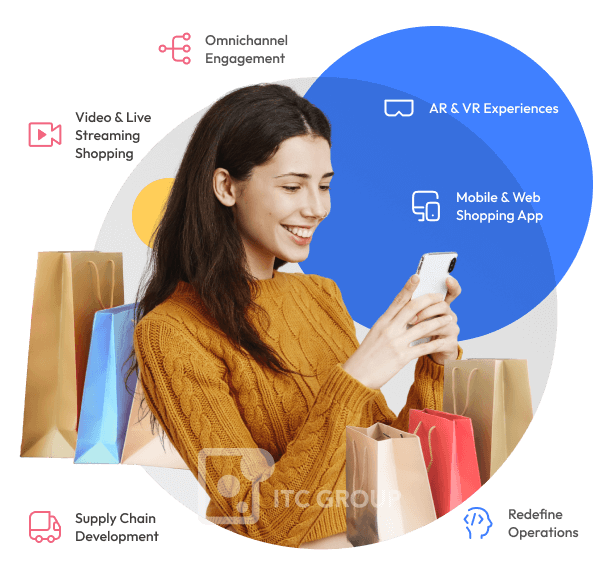 Our Retail & eCommerce Expertise
Through our expertise in retail & eCommerce software solutions, we empower our clients to leverage cutting-edge technologies and enable them to create unparalleled shopping experiences that distinguish them from their competitors.
Scalability and Flexibility
Our software solutions are designed to grow with your business. We prioritize scalability and flexibility, enabling you to adapt to changing market demands, expand your offerings, and handle increasing transaction volumes without any hassle.
Security and Compliance
We prioritize the security of your business and customer data. Our software development solutions adhere to the highest security standards and compliance regulations, ensuring that your sensitive information remains protected at all times.
Cost-effectiveness
We offer cost-effective software development solutions that deliver exceptional value for your investment. Our focus on efficiency, automation, and optimized processes helps reduce operational costs and improve your bottom line.
End-to-end Retail Software Solutions
Empower insurance companies to optimize operations, enhance customer experiences, and seize new opportunities in transition to the digital era by leveraging cutting-edge technologies and consultancy.
Mobile & Web Shopping App
Shopping Cart and Wishlist
Secure Checkout Process
Push Notifications
Ratings and Reviews
Order Tracking
Video & Live Streaming Shopping
Hosting live sessions
Real-time data and insights
Chat and comment Interaction
Omnichannel Engagement
360-degree customer view
Loyalty programs development
Proximity marketing
Multi-Channel Support
Marketing Automation integration
AR & VR Experiences
Real-Time Interactivity
Spatial Mapping and Tracking
Multi Platform Compatibility
Cross-Industry Applications
What happy clients say

"As a Principal Investigator of several international projects with big companies such as Naval Group, French transmission system operator, I am very satisfied with the quality of works and services provided by ITC Group. They continually provide a standard of work with attention to detail of the highest quality. We are happy with our collaborations with ITC Group and highly recommend them to our partners."

"With ITC, a trusted offshore partner, I have a cost-effective approach for complimenting my US based team members and maximizing results."

"ITC Group is an energetic partner with high expertise. Their quick support and responses for every task and issue surprise us. Communication and reports have been well maintained to make everything transparent. We are happy with ITC services."

"I am happy to work with ITC Group engineering team. We work as a team with high collaboration. All tasks and progress have always been well organized to maximize productivity. I highly recommend ITCGroup as one of the best offshore companies."

"With ITC, talented software engineers and a trustworthy management team, I have been able to extend our plan and quickly transform our great ideas to a thriving scalable business."

"ITC has successfully delivered the project more than our expectation. It helped reducing time to production and achieved our business plan. I highly recommend ITC services for any company."

"ITC has done an incredible job delivering the project on time and developing a very impressive Data Broker Service. Kudos to the talented developers and trustworthy management team."

"ITC is a great team of problem solvers with a great working culture. We worked as a team, not as a client and developers. We have worked with ITC to build our two strong products for FEC. They stay connected and report on a regular basis. The result and output has made us very happy."

"ITC has been diligently working with us in building our cutting-edge insurance projection marketplace platform. As a team extension, IT's skilled engineers work well with our mutil-national teams and have shown commendable hard work and dedication to help us meet tight delivery timelines."

"Partnering with ITC teams has transformed our approach to outsourcing. Their exceptional support has made us feel like their team is an extension of our own. Their expertise and insights have been instrumental in boosting our productivity and driving better business outcomes. With ITC, we've gained a true partner who is invested in our success and committed to delivering exceptional results."

"Partnering with ITC has been a pleasure for several years. Their exceptional services, including consulting, advice, and support, have helped us achieve our project goals and maximize outcomes. IT stands out for their flexibility in adapting to our changing needs. We highly recommend IT for their top-notch talent, outstanding services, and unwavering commitment to our success."