Empowering NGOs with Exceptional Perks to embrace Rapid Development
Empowering NGOs with Exceptional Perks to embrace Rapid Development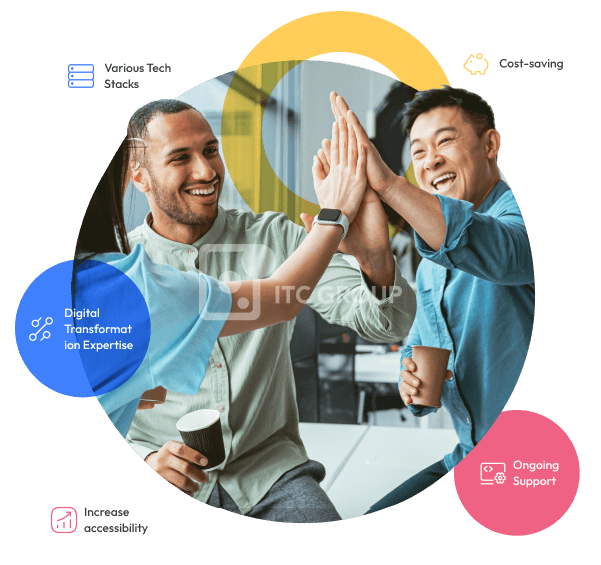 Experienced In various Tech Stacks
Experience with popular tech stacks and stay updated with new technologies to meet business and NGO needs.
Improve Operational Processes
Elevate your assets with an agile DevOps team to quickly adapt and delight customers with seamless experiences.
Increase accessibility to a larger audience
Boost digital channel subscribers, expand customer reach, and significantly improve revenue.
Ongoing Support and Maintenance
Support your organization in resolving issues with blazing-fast support to ensure quick problem resolution.
Explore our IT Solutions can help to build a Comprehensive Content Distribution Channels
Enable media and entertainment enterprises navigate changes in businesses with leading technologies.
Web Portal
Mobile-friendly, adaptive, and Media-Rich Website Development
Interactive tools of contact form, survey form, etc
Knowledge base Building (Resources, Documents)
Customizable settings for portal access rights
Compliance with local laws and legislations
Digital Content Management Platform
Diverse content formats support: press releases, user manuals, etc
No-code page builder
Content categorization and convenient search
Customer interaction with the content features
Scheduled content publishing
Customer Relationship Management (CRM)
Central customer database
Email Communication Tools (Templates Builders)
Document and Campaigns Tracking Tool
Reporting Dashboard and Analytics
Automation Workflows Builder
Contact segmentation capabilities
Chatbot Integration
Chatbot Conversation Builder with Automation
AI-Powered Chatbot for natural conversation
Communication Storage Dashboard
Multilingual capabilities
Enterprise Resource Planning (ERP)
Procurement Management
Financial Management Capabilities
Donor Records Management
Programs and Campaigns Management
Omni Channels Integration
Data Analytics
Business-aligned analytics
Data-driven decision making and innovation
Video Analytics for business insights
What happy clients say

"As a Principal Investigator of several international projects with big companies such as Naval Group, French transmission system operator, I am very satisfied with the quality of works and services provided by ITC Group. They continually provide a standard of work with attention to detail of the highest quality. We are happy with our collaborations with ITC Group and highly recommend them to our partners."

"With ITC, a trusted offshore partner, I have a cost-effective approach for complimenting my US based team members and maximizing results."

"ITC Group is an energetic partner with high expertise. Their quick support and responses for every task and issue surprise us. Communication and reports have been well maintained to make everything transparent. We are happy with ITC services."

"I am happy to work with ITC Group engineering team. We work as a team with high collaboration. All tasks and progress have always been well organized to maximize productivity. I highly recommend ITCGroup as one of the best offshore companies."

"With ITC, talented software engineers and a trustworthy management team, I have been able to extend our plan and quickly transform our great ideas to a thriving scalable business."

"ITC has successfully delivered the project more than our expectation. It helped reducing time to production and achieved our business plan. I highly recommend ITC services for any company."

"ITC has done an incredible job delivering the project on time and developing a very impressive Data Broker Service. Kudos to the talented developers and trustworthy management team."

"ITC is a great team of problem solvers with a great working culture. We worked as a team, not as a client and developers. We have worked with ITC to build our two strong products for FEC. They stay connected and report on a regular basis. The result and output has made us very happy."

"ITC has been diligently working with us in building our cutting-edge insurance projection marketplace platform. As a team extension, IT's skilled engineers work well with our mutil-national teams and have shown commendable hard work and dedication to help us meet tight delivery timelines."

"Partnering with ITC teams has transformed our approach to outsourcing. Their exceptional support has made us feel like their team is an extension of our own. Their expertise and insights have been instrumental in boosting our productivity and driving better business outcomes. With ITC, we've gained a true partner who is invested in our success and committed to delivering exceptional results."

"Partnering with ITC has been a pleasure for several years. Their exceptional services, including consulting, advice, and support, have helped us achieve our project goals and maximize outcomes. IT stands out for their flexibility in adapting to our changing needs. We highly recommend IT for their top-notch talent, outstanding services, and unwavering commitment to our success."